Stay on top of downtime and track end-to-end availability of your servers and websites. Monitor web services such as SOAP, GET/POST, TCP, and ICMP protocols for uptime, performance, and functionality.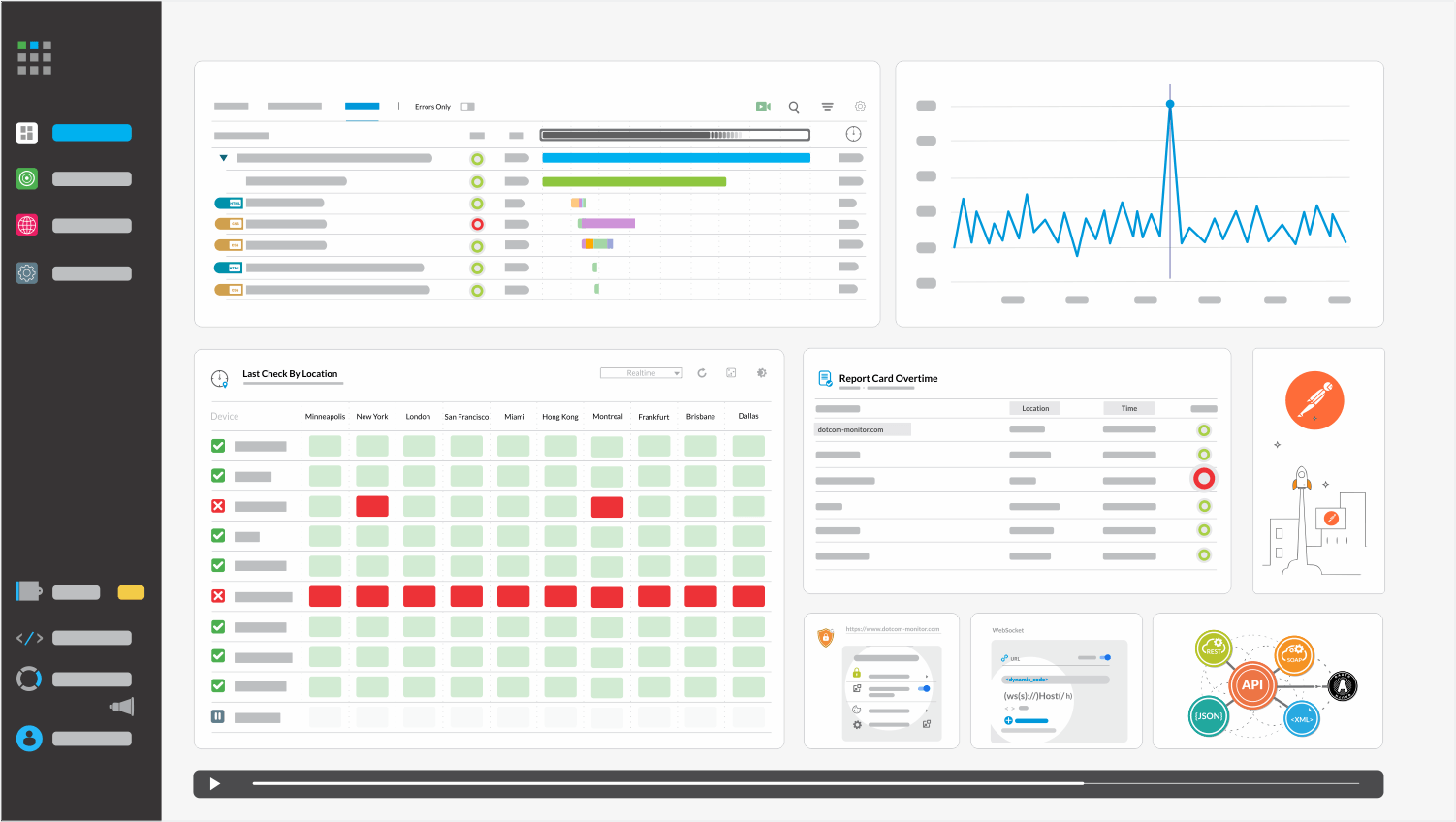 optimized performance insight
Comprehensive Uptime Monitoring
Everything you need to monitor uptime, performance, and functionality of your web APIs and web servers.
Call specified web functions and check for response content, performance, and uptime of SOAP, REST, JSON, and XML web services.
Check the performance of all API requests and set alert thresholds for minimum and maximum response times.
Configure a multi-task monitoring device to monitor OAuth-based Web APIs for availability and performance.
Quickly and easily manage your domains with SSL certificate monitoring.
Check server and website availability, uptime, and response time. Supports GET/POST parameters, and content checks.
Discover and repair issues instantly. Our monitoring agents will alert you instantly the moment connectivity issues arise.
Real-Time Monitoring: Track WebSocket messages for seamless, real-time communication between browsers and servers.
Performance Checks: Monitor availability, speed, and content integrity of your WebSocket-based applications and endpoints.
Instant Alerts: Get immediate notifications for errors or service interruptions to take quick corrective action.
Key Web Service Monitoring Features
Everything you need to take your web services monitoring to the next level!
Trusted by Businesses Around the World
Our customers rely on Dotcom-Monitor to ensure an exceptional experience for their users, helping to retain a high level of trust and loyalty. That's why we're committed to ensuring that Dotcom-Monitor exceeds your expectations.
Expert Web Services Monitoring. Enterprise Power for Businesses of All Sizes.
Leverage our robust monitoring API and global network to keep your web services running at peak efficiency. With real-time alerts and customizable dashboards, make informed decisions faster than ever.
Web Services Monitoring—Frequently Asked Questions
Below are some of the most common questions about web services monitoring. If you have additional questions, feel free to
contact us
.
Web Services Monitoring Free Trial
30-Day Free Trial. No Credit Card Required.