Infrastructure Monitoring
Gain Total Visibility Into IT Health and Performance
Monitor performance and functionality of multiple Internet services through our highly configurable platform.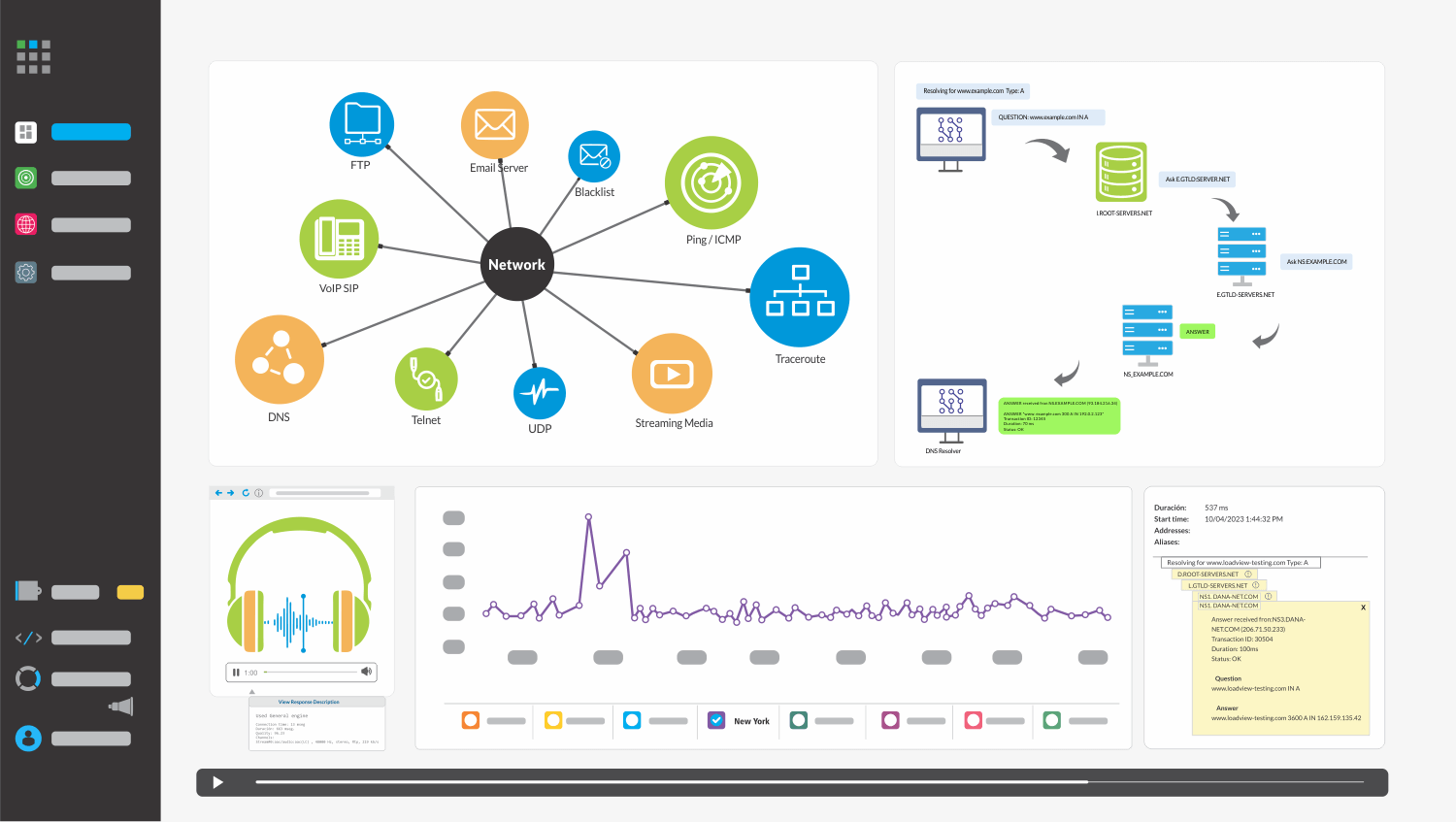 uptime, performance, and functionality
Server & Infrastructure Monitoring
Everything you need to monitor uptime, performance, and functionality of your entire IT infrastructure.
Comprehensive Infrastructure Monitoring
Digital Media & Communication Monitoring: Ensure seamless audio and video streaming, alongside consistent VoIP services with SIP service availability checks and simulated calls.
Server & Protocol Analysis: Track FTP server availability and file structure, validate email server functionality, and ensure uninterrupted DNS performance for your websites.
Network Performance & Assurance: Efficiently monitor network response times and health by analyzing protocols and ports, including ICMP Ping, UDP, traceroute, and TCP Port/Telnet checks.
Continuous Infrastructure Monitoring for Immediate Error Detection
Tailored Alerts: Customize alert parameters based on business-critical metrics and keep your team informed of major outages or problems.
Quick Issue Resolution: Receive custom alerts paired with essential data to quickly rectify errors, maximizing server performance.
SLA Verification: Use monitoring reports to confirm third-party vendor performance and hold them accountable with precise server monitoring data.
Private Network Monitoring: Use Private Agents to track web applications, websites, and network services behind a firewall or inaccessible externally.
Extended Monitoring Reach: Deploy Private Agents directly into your network to extend monitoring without replacing public agents.
Unified Dashboard: Spot downtime or performance dips using detailed charts, real-time data, and shareable dashboards.
Key Infrastructure Monitoring Features
Explore our extensive range of features to ensure maximum uptime and performance!
Expert Infrastructure Monitoring. Comprehensive Insights for Businesses of All Sizes.
Utilize Dotcom-Monitor's robust platform to ensure your IT infrastructure operates flawlessly. With real-time alerts and a user-friendly dashboard, achieve maximum uptime and unparalleled performance.
Continuous IT Infrastructure Monitoring
Monitoring agents are located around the world, providing immediate alerts and diagnostics when errors occur.
Infrastructure Monitoring—Frequently Asked Questions
Below are some of the most common questions about infrastructure monitoring. If you have additional questions, feel free to
contact us
.
Get Started Today with Infrastructure Monitoring
30-Day Free Trial. No Credit Card Required.